Library Express
Address:
3337 Cinema Point
Colorado Springs, CO
80922
Phone: None
Hours:
Monday - Sunday: 6 a.m. - 11 p.m.
What's New!
The makerspaces contained in Library 21c of Pikes Peak Library District are generating creativity, innovation, and learning. To foster these endeavors, PPLD has crated a Maker/Artist in Residence Program. If you enjoy teaching people new skills, we would love to hear from you!
We are currently looking for makers and artists who are able to participate any time between the end of June through the end of 2015.
The call closes Thursday, April 2.
If you have any questions, email makeart@ppld.org.
Program Outline
Contracted position for six weeks.
Five (5) hours of studio time per week onsite in Library 21c held at various days/times throughout the week to cover a wide variety of the library's open hours. A portion of our makerspace will be designated to have the project being worked on by the artist/maker on display. It is preferred that these hours be split up at least two (2) different days per week.
Two (2) programs/classes presented at Library 21c, and two (2) programs/classes at other PPLD locations. All programs/classes will be made available to the general public, with PPLD responsible for participant signup. All program/class times and locations are to be determined by PPLD. These programs/classes must present our patrons with an activity-based, hands-on opportunity to learn a new skill. These programs will be mainly geared toward ages 16 and up.
Contract payment of $1,400, with up to another $300 reimbursement for supplies for public programs.
Contractor will be responsible for procuring all necessary consumable supplies. PPLD will reimburse Contractor for supply costs based on actual detailed receipts. All leftover supplies will become the property of PPLD.
Any resulting artwork or product created by the Contractor will become the property of PPLD.
Contractor will coordinate with PPLD in the making of a PPLD-produced video that promotes Contractor's specific class content at PPLD.
Contractor is responsible for any travel costs related to the Independent Contractor Agreement activities.
Application Process
Complete and submit the Maker/Artist Application
Submit a one page write-up proposal explaining your knowledge or craft, what you would plan to do for your studio hours project, the programs/classes you would like to present, and how they would benefit our patrons. Attach it to your email with your application. Applications without a proposal will not be considered. Proposals need to be in a .doc, .docx, or .pdf format.
If you have pictures you would like to submit with your application, please provide a link to a web address containing those photos in your email. If you must attach a photo, the size of all of the attachments cannot be greater than 10 MB.
Interviews will be held for makers and artists who are being considered.
If offered a residency, the maker/artist must sign PPLD's Independent Contractor Agreement, fill out an IRS W9 form, and complete a PPLD paid background check.
Click the title of this post to view comments.
Vending machines aren't just for convenient snacking anymore. On Monday, February 14, a vending machine stocked with popular books and DVDs began operation in the new Express Library Kiosk at 3337 Cinema Point in the First & Main Town Center. Dubbed Library Express, the facility is the first of its kind for Pikes Peak Library District – an un-staffed walk-in facility where patrons can satiate their literary and cinematic hunger by scanning their library card and selecting a tempting title.
The Library District is able to open the new facility at a minimal cost due to Nor'wood Development's generous donation of the space (located near the entrance to Cinemark Theatre).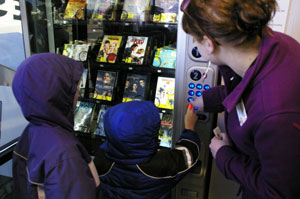 Patrons need to have a library card in good standing to use Library Express, and they can check out up to two books and two DVDs from the vending machine at one time. Items in Library Express vending machines will be clearly marked with labels that indicate different check-out times for these materials (seven days for books, three days for DVDs) and no renewals. Patrons can return their items to a bookdrop at Library Express, or at any of PPLD's other library locations and bookdrops. The Library Express location will also contain a computer kiosk where patrons can access the District's catalog and web resources.

Click the title of this post to view comments.