Library Express
Address:
3337 Cinema Point
Colorado Springs, CO
80922
Phone: None
Hours:
Monday - Sunday: 6 a.m. - 11 p.m.
What's New!
Teen Tech Week is when we show off our amazing digital resources and services that are available to help teens kick-butt in school and prepare for college and 21st century careers!
Teen Tech Week Bingo is for teens and must be completed by March 14, 2015! When you get a Bingo (any diagonal, horizontal or vertical line), bring your bingo card (and proof if needed!) to your Library for a candy bar! Want a chance to win the grand prize? Go for a black out!
See complete rules on the printable game card!
Click the title of this post to view comments.
Vending machines aren't just for convenient snacking anymore. On Monday, February 14, a vending machine stocked with popular books and DVDs began operation in the new Express Library Kiosk at 3337 Cinema Point in the First & Main Town Center. Dubbed Library Express, the facility is the first of its kind for Pikes Peak Library District – an un-staffed walk-in facility where patrons can satiate their literary and cinematic hunger by scanning their library card and selecting a tempting title.
The Library District is able to open the new facility at a minimal cost due to Nor'wood Development's generous donation of the space (located near the entrance to Cinemark Theatre).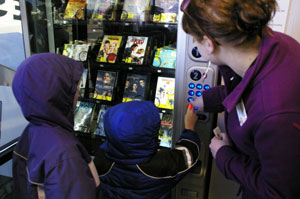 Patrons need to have a library card in good standing to use Library Express, and they can check out up to two books and two DVDs from the vending machine at one time. Items in Library Express vending machines will be clearly marked with labels that indicate different check-out times for these materials (seven days for books, three days for DVDs) and no renewals. Patrons can return their items to a bookdrop at Library Express, or at any of PPLD's other library locations and bookdrops. The Library Express location will also contain a computer kiosk where patrons can access the District's catalog and web resources.

Click the title of this post to view comments.