Library Express
Address:
3337 Cinema Point
Colorado Springs, CO
80922
Phone: None
Hours:
Monday - Sunday: 6 a.m. - 11 p.m.
What's New!
We are looking to fill in gaps in our Pikes Peak region high school yearbooks collection. After several years of contacting high school yearbook offices and alumni groups, we have added several hundred more volumes, but we still have holes to fill. We are the main repository in the area for these yearbooks and perhaps the only place where they are easily accessible. They are used extensively by our genealogy patrons, high school students, and those recently graduated from high school.
To serve our patrons better, we would like to have as complete a collection as possible. Therefore, we would like to appeal to our patrons to complete this task. Click here to see which yearbooks we are missing. If you have any yearbooks on this list that you are willing to donate to us, please contact the Library at (719) 531-6333, x2253.
Click the title of this post to view comments.
At a special event held at Penrose Library on Wednesday, February 13, El Pomar Foundation announced it had approved a challenge grant of $750,000 to support the Library's Tri-Building Project to create a 21st Century library system, which will bring significant improvements to Pikes Peak Library District.
The funds from El Pomar are earmarked for use at PPLD's Penrose Library, but the funds will allow for wider District-wide improvements at PPLD, including renovations and upgrades at PPLD's East Library and the opening of a new facility in 2014 at 1175 Chapel Hills Drive as well. PPLD's new facility will feature content creation areas for creative professionals, business incubation and hoteling space for small businesses and nonprofits, enhanced areas for job seekers to find career assistance, and much more!
El Pomar's generous grant will allow the Library to move forward on construction and renovation in 2013, with a projected opening of the new facility in 2014. The challenge grant is contingent upon The Pikes Peak Library District Foundation raising $3.15 million by January 1, 2016.
Click the title of this post to view comments.
Vending machines aren't just for convenient snacking anymore. On Monday, February 14, a vending machine stocked with popular books and DVDs began operation in the new Express Library Kiosk at 3337 Cinema Point in the First & Main Town Center. Dubbed Library Express, the facility is the first of its kind for Pikes Peak Library District – an un-staffed walk-in facility where patrons can satiate their literary and cinematic hunger by scanning their library card and selecting a tempting title.
The Library District is able to open the new facility at a minimal cost due to Nor'wood Development's generous donation of the space (located near the entrance to Cinemark Theatre).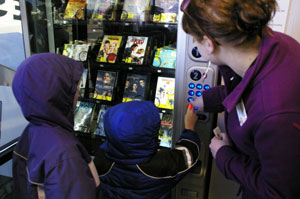 Patrons need to have a library card in good standing to use Library Express, and they can check out up to two books and two DVDs from the vending machine at one time. Items in Library Express vending machines will be clearly marked with labels that indicate different check-out times for these materials (seven days for books, three days for DVDs) and no renewals. Patrons can return their items to a bookdrop at Library Express, or at any of PPLD's other library locations and bookdrops. The Library Express location will also contain a computer kiosk where patrons can access the District's catalog and web resources.

Click the title of this post to view comments.