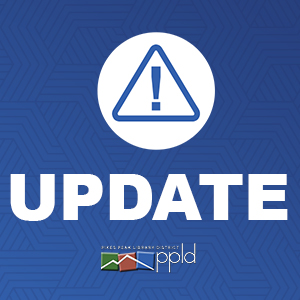 Last updated Feb. 9, 2021
More Services & Spaces Available Inside Our Libraries!
Pikes Peak Library District (PPLD) is here to serve you, regardless of the circumstances!
We continue to prioritize the health and safety of our patrons, staff, and greater community during the ongoing pandemic. With El Paso County's current status on the COVID-19 dial, PPLD welcomes people back inside all of our libraries, now with more services and spaces available for us! The Library will continue to follow public health orders and guidance, but now our resources and services can be more accessible again.
Open hours and specific services may vary by library location, so please check in advance. The first hour will be reserved for people at higher risk of serious complications from COVID-19.
You can visit the Library when it's convenient for you during open hours to browse the collection and check out items, use a computer, or copy, fax, and scan documents. We also now offer the following at select locations: 3D print drop-off services, plus the ability to reserve and check out Studio equipment.
Here's what else you can do beginning Tue., Feb. 9:
Make a reservation to use one of our creative spaces! Makerspaces have reopened for use of laser engravers, sewing machines, and die cutters, along with Studio21c and Studio916 for on-site sound recording or video and photography needs. Spaces are open for select hours at East Library (makerspace only), Library 21c, and Sand Creek Library. Reservations are required for use of these spaces, plus all visitors must adhere to PPLD's safety protocols.
Limited meeting rooms are now available for public use with a reservation! We have reopened a select number of meeting spaces, with one room available at East, Rockrimmon, and Sand Creek libraries, two rooms at Penrose Library, and three rooms at Library 21c. One public reservation is allowed per day, per location, for a maximum of two hours. Use the link above or below to view your options and what else to expect; there are strict capacity limits per room, and all visitors must adhere to PPLD's safety protocols. Make your reservation online, by phone at (719) 884-9827, or by email at meetingrooms@ppld.org.
In addition to services offered inside our libraries, we also offer:
Curbside services allow you to pick up Library materials, wireless print jobs, and take and make kits without having to go inside any location. Many libraries now offer a park and text option, making it even easier! You also can use our 24/7 book drops to return Library materials at any time.
Have a question? Ask a librarian! You can connect with PPLD staff by phone, live chat, or email. Or, book an appointment with one of our specialized librarians.
Take advantage of our large digital collection, extensive hub of online resources, and many virtual programs available for all ages and interests. Browse our online Catalog, conduct research, or participate in a Library event from almost anywhere, anytime. Get started using our Library remotely!
Need WiFi? It should be accessible outside most library facilities for anyone to use, day or night.
---
What can I expect when visiting the Library inside?
During your Library visit, you can do the following:
Here's what to expect during your Library visit to help prevent the spread of COVID-19:
Cloth face coverings or masks are required by all patrons and staff to enter all libraries. (If you do not have one, PPLD can provide you with a single-use mask at no cost. Some exemptions do apply, such as for those under the age of 3.)
There are capacity limits inside every building, along with public-use spaces like makerspaces, studios, and meeting rooms inside of select locations.
The number of patrons inside are monitored at all times.
Staff regularly sanitize frequently touched items like handles, counters, copiers, and other equipment. Computers are cleaned between each use. There are also sanitation protocols for equipment checkouts, along with public-use areas like makerspaces, studios, and meeting rooms.
If you retrieve a book from a shelf but decide you don't want it, please place it on the designated cart instead of re-shelving it yourself.
All fax machines, copiers, and computers are self-service only; staff can only offer assistance at services desks, behind a protective shield.
Some computers will not be available as we encourage patrons and staff to remain six feet apart in our computer labs.
Other areas and items that remain temporarily unavailable or closed to the public:All water fountains, children's play area, and study rooms, along with some meeting rooms and furniture.
Please remember that open hours and specific services may vary by Library location, so please check in advance. The first hour will be reserved for people at higher risk of serious complications from COVID-19.
We ask that you keep your visits as brief as possible in order to minimize risk for everyone inside our Libraries.
---
Why is the Library requiring patrons to wear face masks?
PPLD prioritizes the health and safety of Library patrons, staff, and the community-at-large. To provide library services and resources inside of our facilities, our staff must interact directly with patrons in close proximity. We have instituted this requirement, along with other precautionary measures, to minimize potential transmission of COVID-19.
This is in accordance with Governor Polis' Executive Order to slow the spread of COVID-19 in Colorado communities. Effective July 16, everyone in Colorado over the age of 10 is required to wear a face covering inside any public space. Also, after significant discussion and consideration of scientific findings during the May 27 public meeting, PPLD's Board of Trustees unanimously approved the requirement of cloth face coverings by patrons and staff inside all libraries to help prevent the spread of COVID-19 in El Paso County and beyond. The Board of Trustees determined that the Library District will largely comply with CDC recommendations requiring masks for those ages THREE and older, rather than the statewide recommendation of 10 and older.
PPLD will continue to adhere to public health guidance that's grounded in science, especially as El Paso County Public Health and the Colorado Department of Public Health & Environment track COVID-19 cases within El Paso County and across the state.
If you do not feel comfortable wearing a mask, PPLD still offers curbside services at all libraries. There are also many ways to use the Library remotely, almost anytime and anywhere.
---
What else can I expect from PPLD?
Here's an overview of what is available – and not available – to our Library cardholders and patrons at this time:
Want to return items and pick-up holds? Curbside services are available at all libraries! Use the link to find out more and access your library's service hours and pickup instructions.
There are so many ways to use the Library remotely! Browse our Online Catalog. Stream and download books, audiobooks, comics, magazines, music, and videos. Use our databases to conduct research, access ample resources for kids and teens, and more from your couch.
Check out our virtual programs! Our librarians are bringing their services to you, anywhere and anytime.
Have a question? Ask a librarian! Our staff are available to help you by phone, live chat, and email. You also can book an appointment with a specialized librarian.
Checked out items: Please check your PPLD accounts either through our Catalog or on the PPLD mobile app for the new return dates, which will be listed by item. (Returns are accepted outside of all libraries as part of curbside service.)
Fines & fees: We officially went fine-free for most Library materials in early 2019, as long as they are not lost or damaged. (See above regarding checked out items.)
OverDrive: Since more patrons are using PPLD digital resources online, cardholders can have 20 checkouts for a total of 14 days each; the holds limit remains at a total of 30. PPLD will continue to add copies of digital materials to our collection as our budget allows. Some digital checkouts can be returned early so others have opportunity for access. (Instructions for checking out and returning are available here.)
Use of meeting & study rooms: Study rooms remain closed, but a limited number of meeting rooms are now available for reservation across the Library District. To find out more, use the link above to see the available spaces, capacity limits per room, and requirements for use. To make a reservation, click the link above, call (719) 884-9827, or email meetingrooms@ppld.org.
Library programs & events: The Library is currently only hosting programs virtually and in other safe ways such as Dial-a-Story and TeleGram, enjoyed by phone, or Drive-in Storytime, where participants stay inside their own vehicles. In-person activities hosted by PPLD and held inside of our facilities are not happening at this time.
Use of creative spaces & services: Cardholders can take advantage of 3D print drop-off services, plus reserve and check out Studio equipment. Our makerspaces and studios have reopened by reservation, with strict capacity limits. They are only available at select libraries and hours may vary by location.
Library card signup: Register online and start using your card immediately! If you sign up online during this time, your temporary account will be available for 90 days (instead of the usual 12-day limit), giving you immediate access to OverDrive and other digital resources from home. Bring your ID and proof of address to your nearest Library and they can activate your full privilege account inside or via curbside!
Account expirations & renewals: Library card/account expirations will be extended, including accounts that expired in the past 24 months.
Interlibrary loans: Due to staffing restrictions based on guidance from local public health officials, maintaining the current number of requests is not feasible. Therefore, we are decreasing the number of Interlibrary Loans requests to three per library card. We expect requests to take longer to fulfill (borrowing or purchasing), with a potential wait time of four to eight weeks.
WiFi access: All Library facilities continue to provide open WiFi access, which should be also available outside of most PPLD buildings.
Friends of PPLD and book donations: PPLD Friends Bookstores have reopened their bookstores inside of our libraries.
Online sales continue with curbside pickup at East Library. Shop our collection now!
Have donations for us? Complete the form here to request an appointment to donate your materials.
---
What's happening behind the scenes at the Library?
All returned materials may be quarantined for up to four days before being processed and circulated. This time limit has been approved by El Paso County Public Health.
Per the current COVID-19 status, the Library team can only work at limited capacity inside our facilities. On-site staff are required to follow public health guidance like wearing face coverings, washing hands thoroughly and frequently, and maintaining proper distance during any in-person interactions. They are shelving books, pulling holds, quarantining returned materials, and helping circulate thousands of books, movies, and other items from PPLD's large collection between our libraries.
In addition to our limited services inside, our librarians are still here for you virtually! Staff continue to take your questions by phone, live chat, and email. They're also providing and expanding virtual services and programs, along with our digital collection. And, we're working with community organizations, school districts, and other partners to support El Paso County residents with many different needs during the COVID-19 pandemic and beyond.
---
Information About COVID-19
Have questions about the novel coronavirus?
We understand that people may be concerned about COVID-19 and how it may affect them. Please check out the following public resources for more information:
What should I do?
To help stop the spread of germs and any contagious illness, local and national public health experts recommend that everyone should take everyday preventive actions and practice good hygiene. Here are some tips specific to the COVID-19 pandemic:
Put distance between yourself and other people; at least 6 feet apart.


Stay home if you're sick.


Cover your mouth and nose with a cloth face cover whenever in public settings, such as grocery stores, pharmacies, medical facilities, hiking trails, etc.


Frequently and thoroughly wash your hands with soap and water for at least 20 seconds. Use alcohol-based hand sanitizer, if you cannot wash your hands.


Keep your hands away from your eyes, nose, and mouth; avoid touching with unwashed hands.


Cover your mouth with tissue when coughing or sneezing, and then properly wash your hands.


Clean surfaces and personal items, such as cell phones, using household disinfecting products.
What is COVID-19?
There is a global pandemic situation involving a respiratory illness named COVID-19, which is caused by a new coronavirus that spreads through coughing or sneezing, much like influenza (also known as the flu). Vaccines have been approved and are being distributed.
For current information and updates on the pandemic: