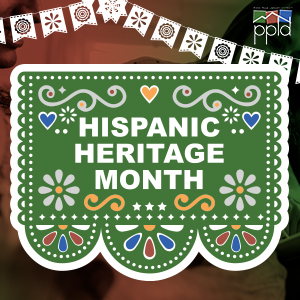 Hispanic Heritage Month is celebrated from Tue., Sept. 15 - Thu., Oct. 15, recognizing the contributions and influence of Hispanic American to the history, culture, and achievements of the United States. PPLD hosts several opportunities to learn and celebrate.
---
Juan Morales is joining us again to teach a poetry workshop. Register now to participate in the workshop from one of Colorado's renowned poets! For ages 18+.
When: Sat., Sept. 26 from 1 - 3 p.m.
---
Resources
Adults:

Colorado Experience
Justicia Y Libertad (27 min., NR)
1968 was a pivotal year in American history: the Vietnam War hit its peak, Martin Luther King, Jr. was assassinated and riots shook the Democratic National Convention in Chicago. At home in Colorado, it marked the birth of the Chicano Movement. These pivotal times brought political activist Corky Gonzalez to the forefront as an early pioneer of equal rights for Mexican Americans.

Young Adults:
Families and Children:

Enjoy some incredibly colorful costumes and dance from Ballet Folklórico México Danza to celebrate Hispanic Heritage month! The music is so energetic you might want to get up and dance with your family! Click here to view the video.