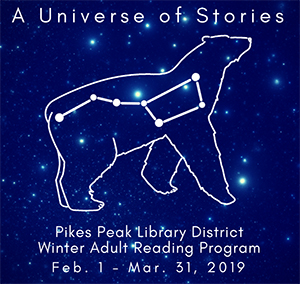 PPLD invites you to participate in 2019's Winter Adult Reading Program A Universe of Stories! From Feb. 1 - March 31, read books and attend Library programs to win prizes. This year we are challenging you to try something new! While you still have the option of reading 8 books in 8 weeks to win reading prizes, you can now participate in 4 activities in place of reading 4 books.
Reading prizes include a Rocky Mountain Chocolate Factory chocolate bar, and a polar bear hot/cold pack, and a limited edition 2019 Winter Adult Reading Program mug.
Complete the first level by reading 4 books, or with a combination of reading 2 books and 2 activities, and win the chocolate bar and hot/cold pack.
Complete the second level by reading 4 more books, or with a combination of reading 2 more books and 2 activities, and win the mug.
Complete both levels to be entered into a drawing for a Samsung tablet.
Click here for a complete list of Winter Adult Reading Program events.
Click here for a printable reading log.
Featured Programs
Winter Adult Reading Program Kickoff Parties
Join us for the kickoff of the Winter Adult Reading Program: A Universe of Stories. Come enjoy a hot chocolate bar, find some new reads, and participate in a book swap. Staff members will be on hand to help you register and the first 30 people who register in person at the party will receive a limited edition tote bag. All ages welcome to the party. The reading program is open to ages 18 and up.
Durthy Washington presents Reading in Reverse: Discovering "the Classics"
This class invites participants to discover classic literature by "reading in reverse." Creating your reading list for the New Year? Then you won't want to miss this class!
Dr. Wanda Tisby Cousar and Ron Cousar present African Storytelling, Drumming, and Percussion
Join Dr. Wanda Tisby Cousar and Ron Cousar for a Black History Month program that will include a West African Dance performed to drumming. They will also tell the true story of the Lion King using an African instrument called a Balafon.
Rose Red Elk presents Native American Tales
Oral, spoken word storytelling accompanied by music is Rose Red Elk's passion. She will engage the audience to participate in a song "Keepers of the Earth."
Ann Doolan-Fox presents The Celtic Road Home
Join Ann Doolan-Fox as she discusses her book, The Celtic Road Home. The book tells the story of her childhood, international adventurous travels, and life journey until the present day.
Linda Batlin presents Folktales Around the World
Join Linda Batlin for a potpourri of multicultural folktales from around the world, some classic tales, some whimsical stories but all certain to educate and entertain.
More activities and way to participate
Read a new author or genre
Read a book you should have read in school
Read a book that was made into a movie
Read a book about a place you want to visit
Read a book that has won an award
Read a book with an opposing viewpoint
Read a bestseller
Read a book from a different culture
Read a cookbook and try out a recipe