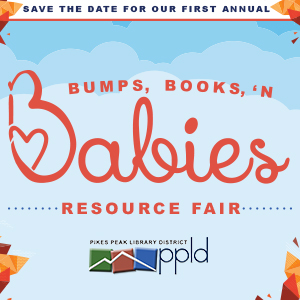 PPLD invites you to participate in our 1st Annual Bumps, Books, 'n Babies Resource Fair!
Click here for event information.
When: Sat., Sept. 28 from 1:30 - 4:30 p.m.
Where: Library 21c, 1175 Chapel Hills Dr.
Click here for vendor application form.
Parents of babies and those who are expecting or trying to conceive:
Connect with local resources and services that make the parenting journey easier and give babies a bright beginning! This free family event will feature a variety of local exhibitors representing baby- and pregnancy-focused community groups and businesses from a variety of sectors, including wellness, safety, early literacy, parenting groups, and play dates. Talk to resource professionals and get giveaways!
There will be lots more fun to be had, including a maternity/family photo shoot with the Library 21C Studio green screen, mini massages, Q&A Panels and presentations on a variety of topics, and mini programs too!
• Baby Time
• Babywearing Dance Party
• Baby & Me Yoga
• DIY Baby Toy Crafts
• Baby Sign Language
Click here for photo shoot information.
When: Sat., Sept. 28 from 1 - 5 p.m.
Where: Studio 21c, 1175 Chapel Hills Dr.