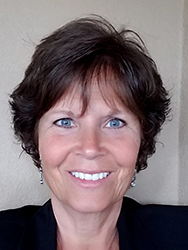 Term Expires:
Friday, December 31, 2021
Professional Life: Cathy is a marketing, strategy, development and management consultant. She has 28 years of marketing experience and most recently was the Vice President of Corporate Communications and Development at Ent Federal Credit Union.
Community Involvement: Cathy has been actively involved in the community for many years. She currently serves on the board of the Pikes Peak Library Foundation and the Colorado Springs Science Center Project, and is a member of Friends of Ute Valley Park and the Trails and Open Space Coalition.
Education: B.A., Moorhead State University, Moorhead, MN
Family and Personal Life: Cathy has been married for 30 years to Dave Grossman and has two sons: Nick and Matt. She enjoys hiking, reading, and gardening.