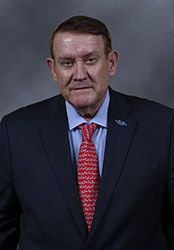 Term Expires:
Sunday, December 31, 2023
Professional Life: Dr. Stoll spent 27 years as an officer in the US Army and 25 years as a contractor supporting military forces in Korea and Germany.
Community Involvement: Dr. Stoll volunteers at the Pikes Peak Council BSA Board of Directors and is Jamboree District Chairman. He also volunteers at Mt. Carmel Veterans Service Center.
Education: Dr. Stoll holds a PhD in Law from the University of Utah, a M. Ed. in Human Resource Management from Boston University, and a BA in Anthropology from Wichita State University.
Family and Personal Life: Dr. Stoll has been married to his wife for 29 years, moving to Colorado Springs last year after more than 23 years in Korea and Germany. Their sons are both Army officers. Dr. Stoll and his wife enjoy Colorado's variety of outdoor activities.