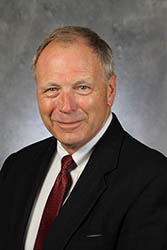 Term Expires:
Friday, December 31, 2021
Professional Life: Wayne has worked as a leader in the utility industry for 36 years. In 2017 he retired as General Manager in Water Services at Colorado Springs Utilities. Wayne served as a Marine Corps Captain.
Community Involvement: Wayne served 2 terms on the PPLD Foundation Board and is member of the Carnegie Society. Wayne serves on the Board of the Donala Water and Sanitation District. Wayne remains active in water issues.
Education: Wayne earned a B.S. in Engineering from the United States Naval Academy.
Family and Personal Life: Wayne and his wife Terry of 41 years, have two sons and one grandson. They enjoy traveling, reading, the arts, and hiking the Rockies.