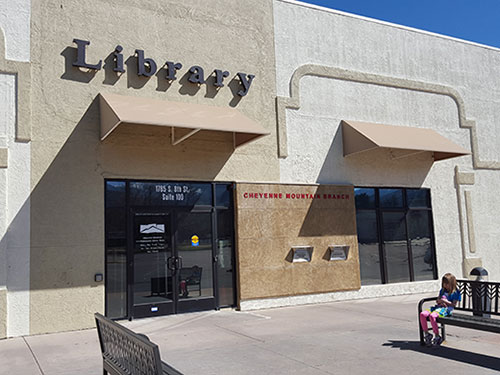 Address:
1785 South 8th Street, Suite 100 - map it!
Colorado Springs, CO 80905
Phone: (719) 531-6333, x7001
Contact Us
Hours:
Monday - Thursday: 9 a.m. - 9 p.m.
Friday and Saturday: 10 a.m. - 6 p.m.
Sunday: Closed
Holiday Hours and Closures
Bus Route: 4
Friends of Cheyenne Mountain Library
For those of you still mourning the loss of real bookstores, the library has an added perk besides its free books to borrow. Donations brought in by our patrons are sold at the Friends of Cheyenne Mountain Library Book Store located just inside the quiet reading room. The library is wonderful but there are times you just want to own that book you take on vacation or underline for the book club. While you can't count on finding a specific title, the serendipity of exploring for unexpected treasures has its own rewards and you can't beat the price of a dollar paperback for the pool or plane ride.
Prices: $3 for hardbacks, $2 for large paperbacks, $1 for small paperbacks and 50 cents for magazines. DVDs and CDs are also sometimes available.
It's a great place to shop for your reading pleasure!
We accept donations of gently used adult and children's books.The proceeds go to support our children's programs, buy craft supplies, and fund hospitality needs for our Senior programs and volunteers. The Cheyenne Friends have also donated funds to the Cheyenne expansion into our present location and other district building projects.
Click here to learn more about the Friends of the Pikes Peak Library District.
---