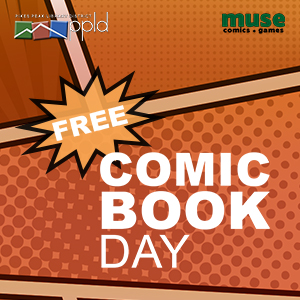 On Sat., Aug. 14, free comic books will be given away at all PPLD locations (while supplies last)!
Thanks to Muse Comics + Games for donating the comic books!
This celebration marks the 20th anniversary of Free Comic Book Day. Free Comic Book Day (FCBD), one of the comic book industry's most beloved and anticipated celebrations, will once again be a single-day event. The event, which traditionally takes place on the first Saturday in May, will be celebrated in August 2021 in the hopes that much of the uncertainty and disruption related to COVID-19 will have passed.