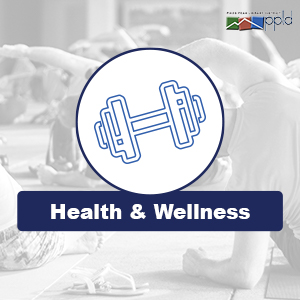 Whether you're looking to improve flexibility and mindfulness with yoga or get your heart racing with Zumba, our health and wellness classes will help you reach your goals. PPLD offers classes, programs, and workshops for all ages! Check the event listing for program requirements. All you need is your Library Card.
---
Yoga
From baby yoga to Vinyasa Flow, you can start or continue your yogi journey at the Library!
---
Mindfulness and Meditation
PPLD has workshops that will introduce your to mindfulness meditation to reduce stress and gain a deeper understanding of how body, mind, and emotions influence health.
---
Zumba Programs
Get your heart pumping at the Library with salsa, reggaeton, merengue, and cumbia choreography! Zumba is a fun way to make your workout fly by.
---
Nutrition and Diet Programs
Making healthier choices has never been easier now that you can access nutrition and diet classes for free at your Library.
---
Health and Medicine Guide
This guide offers online, websites, and local resources on health and medicine
---
Consumer Health Complete Database
A comprehensive full-text resource for consumer-oriented health content covering all areas of health and wellness from mainstream medicine to the many perspectives of complementary, holistic, and integrated medicine.
---
Click here for a full list of health programs at the Library
.
Click here to see what Health and Wellness books we have in our Catalog
!
Click here for Health and Wellness selections in OverDrive, one of our eBook providers
.
Click here for more digital resources
!
*Pro Tip: Can't find what you are looking for? Try different keywords in the search bar of any of these. For example: nutrition, meditation, healing.