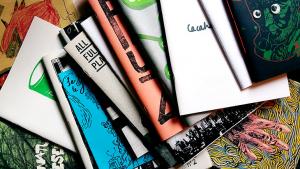 Have you ever heard of zines? Zines are a type of self-published, hand-assembled booklets often used for self-expression and idea sharing. This course will introduce, discuss, and briefly outline the history of American independent publishing, followed by a hands-on demonstration in which attendees will create their own zines!
Please help ensure that other patrons have the opportunity to participate in this program by only registering for one session.
Please also visit with ChloeBee Brown and create more zines in a drop-in setting at Library 21c for Meet the Maker in Residence on select dates from July 8 - August 14!
Background:
For as long as ChloeBee can remember, she has expressed herself creatively through art. As a multidisciplinary visual artist, professional tarot reader, and performance artist, ChloeBee needed an outlet for her diverse creative expression and found her niche with zines. Chloe's mission is to empower workshop participants to use zines as a means to highlight their thoughts, feelings, art and communities; to educate others on the importance of free speech; and, to display all the ways we are creatively inclined.
Class Dates: