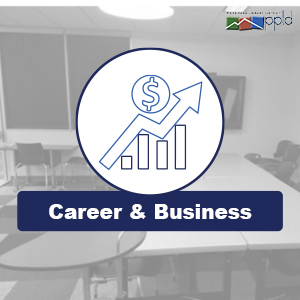 The Library believes in the power of small businesses in our community. From business rooms to resources like laptops and classes, see what your Library offers your startup. All you need is your Library Card.
---
PPLD Business Center
Visit our Business & Entrepreneurial Center at
Library 21c
to develop the skills you need to compete in an increasingly digital business world.
---
Meeting Rooms
Whether for client presentations, large speaking events, or just a quiet place to work, we have a space to suit your needs!
---
Computer and Internet Resources
Need access to the internet, software, or even just a computer to get things organized? PPLD has tons of resources!
Click Here
for more useful tools.
---
Business Programs
Find classes for both business and personal growth at the Library.
---
Resources for Entrepreneurs
This guide is intended as a starting place for finding resources for entrepreneurs within our collection.
---
Business Guides
Browse our best resources, organized by subject.
---
Databases for Entrepreneurs
Reference databases about starting or growing a business, learning new skills, and so much more!
---
Small Business Resource Center
Access business planning, funding, and management training.
---
Business Classes
PPLD offers a variety of business classes. Find one that best fits your needs.
---
Starting a Business in El Paso County
This guide will help those thinking of starting a business and not sure where to start. It will provide resources and contact information for small businesses starting out.
---
Choosing a Legal Structure for Your Business
A guide to print resources, databases, and online sources that will help you when choosing a legal structure for your business.
---
Nonprofit Training
The El Pomar Nonprofit Resource Center
, located at
Penrose Library,
provides assistance and resources to nonprofits. Nonprofits are often understaffed and under budget, with little time or money to invest in training. This guide showcases Library training resources, online educational materials, and various sources to stay current on nonprofit topics.
---
Starting a Nonprofit
Interested in starting a nonprofit, but not sure where to go? This guide will provide information on how to get started, what you should think about before getting started, and links to resources to help you start a nonprofit.
---
Getting Legal Help
Find resources on hiring and working with an attorney and information on legal organizations.
---
Click here to search our Catalog for career and business resources
.
Click here to utilize our CyberShelf resources for eBooks, eAudios, eMagazines, eNewspapers, etc.
*Pro Tip: Our website and Catalog are keyword searchable if you need more specific resources!