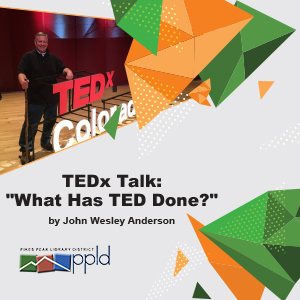 TEDx COS 2019 speaker and former El Paso County Sheriff John Wesley Anderson presents "What has TED Done?"
This one hour talk is designed for an audience of teens to adults to seniors who are interested in learning what TED is, how TED has radically changed the communication process, and how they can use this enhanced communication process to improve their future public speaking or writing.
Click here for more information.
John Wesley Anderson, MBA, is a published author, storyteller and TEDx speaker. He was selected from over 300 applicants to be one of only 13 speakers for the TEDx Colorado Springs event held at the University of Colorado at Colorado Springs Ent Center for the Arts on Mother's Day, May 12, 2019. (Bio attached)