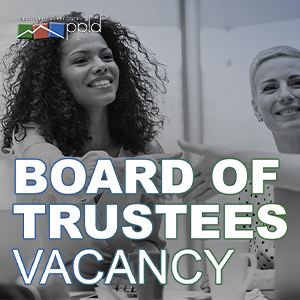 Interested in serving on PPLD's Board of Trustees?
The Pikes Peak Library District (PPLD) Board of Trustees is a governing board. There are seven members serving on the PPLD Board. The term of office is five years; vacancies are filled for the remainder of the unexpired term. Board members may serve for no more than two terms.
Board members are appointed jointly by the Colorado Springs City Council and the El Paso County Commissioners.
Colorado Library Law addresses the composition of library boards in CRS 24-90-108. It specifically defines the power and duties of library boards in CRS 24-90-109. The Board for a library district is considered a governing, as opposed to an advisory Board, and responsibilities, as defined by both law and practice, are outlined below.
---
The PPLD Board of Trustees is seeking applicants to serve a five-year term beginning Jan. 1, 2022.
Please click here to view the position description and access the application
.
The deadline for receipt of applications is 12 a.m., Sept. 13, 2021.
Board of Trustees Position Description
---
All applicants are requested to attend the PPLD Board of Trustees meeting on Wed., Sept. 22 at 5 p.m. at Penrose Library, 20 N. Cascade Avenue.
A reception will follow the meeting so that applicants may introduce themselves, meet the current Trustees, and learn more about the position. Please RSVP for the Sept. 22 Board of Trustees meeting to Laura Foster at lfoster@ppld.org or (719) 531-6333, x6009.