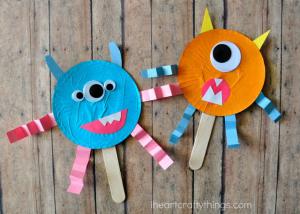 Pick up your Cupcake Liner Monster Take and Make at area PPLD Libraries beginning this Friday, Oct. 23, 2020
Supplies:
Construction paper
1 cupcake liner
Googly eyes
1 craft stick
Glue (not in Take and Make)
Scissors (not in Take and Make)
Markers (optional)
Directions:
Start by flattening your cupcake liner and glue it onto the piece of construction paper to give it more weight. Cut out the cupcake liner.
Cut out a mouth, arms, legs, horns, and teeth (or whatever you want on your monster) from your construction paper and glue them onto your cupcake liner. Glue the googly eyes onto your puppet. Make it scary or silly!
Add some glue to the top of your craft stick and glue your cupcake liner onto it. Once it has dried completely, you can have fun putting on a puppet show with your monster puppet!
For video instructions, check out last Tuesday, October 20's video for detailed instructions with one of our librarians here: https://youtu.be/e60Ig4x0XXQ?list=PLMEg2Dd0dSFctLfDQxsL5SmuE8zkwQFmu