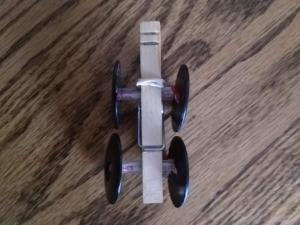 The Take and Make for this project will be available at area PPLD Libraries starting Fri., Oct. 16, 2020.
Supplies:
1 plastic straw
2 twist ties (or bread ties) or two paper clips
1 clothespin
4 same size buttons
Scissors
Directions:
Cut 2 straw pieces that are each about 1 inch long.
Slide a twist tie through each straw.
Use the bread tie to secure a button at each end of the straw by looping the tie back through the button hole.
Clip one axle to the clothespin.
Slide the second axle into the back of the clothespin as close to the spring as possible.
Use a rubber band to secure it in place.
Begin racing!
Find the tutorial video at: https://ppld.librarymarket.com/virtual-stem-clothespin-racers