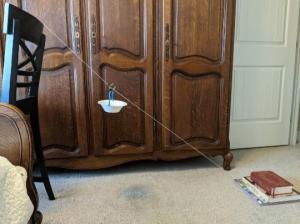 Supplies:
(Pick up your Take and Make for this project at area PPLD libraries starting this Friday, Oct. 2)
String (fishing line, or unwaxed dental floss)
Pipe cleaners
Binder clips
Several large paper clips
Recycled container to use for carrier (yogurt container, paper cups, empty boxes, etc.)
Hole punch or scissors
Masking tape and/or scotch tape
Paper and pencil
Small plastic animal
Directions:
To make your carrier:
Brainstorm how you want to make your carrier and what you want to make it out of.
Punch holes in the sides of the container for the pipe cleaners.
Thread the pipe cleaner(s) through the holes and twist them into place.
Add binder clip or paper clip to act as your pulley.
To set up your zip line:
Run a 4-foot length of string between two objects, such as a chair and a stack of books on the ground.
Be sure the zip line is at least two feet higher on one end than on the other.
Use masking tape or scotch tape to attach your string. You want to be able to easily undo one end of the zip line to attach the carrier to it.
Watch this project at: https://youtu.be/yAJUMuPC0Vc?list=PLMEg2Dd0dSFeL2073EuA0bc6TD1nM8wUN