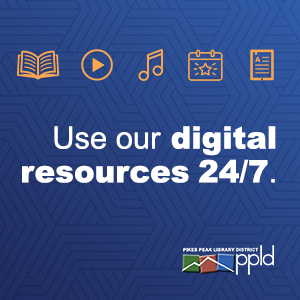 Updated January 21, 2021
Enjoy our entertaining and educational programs from home!
Due to the ongoing pandemic, Pikes Peak Library District is not offering in-person programs at any of its locations right now, but we are offering a variety of virtual services and programs for people of ages and interests. Plus, you can use the Library remotely in other ways, anywhere and anytime, and connect with a librarian by phone, live chat, or email!
Visit our virtual calendar of events for all scheduled programs and activities. Can't participate live? No worries! Many of the videos are featured on our YouTube channel and playlists, so you can watch whenever it's convenient for you.
Here's a handy overview of some virtual opportunities that our team created for you to experience:
FOR EVERYONE:
Live Virtual Programs
From homeschool programs to tours of local institutions, PPLD has you covered.
Take and Make Library Crafts
Missing your Library's programs? Exhausted your home crafting ideas? PPLD has you covered! Presenting.. Take and Make programs! Your Library will now have crafts available to TAKE home and either follow a virtual class or included instructions to MAKE! Kits are available for all ages.
Dial-a-Story
PPLD is now offering storytimes, book recommendations, resources, and more - all on the phone!
---
FOR ADULTS:


Virtual Yoga
Mondays, Thursdays, and Saturdays from 9 - 10 a.m.
Local instructor Svetlana Nudelman guides practitioners through beginner and intermediate-level yoga poses.




Virtual Book Club
Missing your Library's book club? Some have gone virtual!




Genealogy with PPLD
Are you interested in learning more about how PPLD can support your genealogical research? Learn research strategies including getting started, organizing research, selecting and searching for records, and more!
---
FOR TEENS:
Teens programs premiere at 11 a.m. and are available for viewing anytime on the PPLDTV YouTube Channel.
Teens Make


Teen Tech


Teen Games


Teens Eat


Teen Fandom


Teen Self-Care


Review Crew
Anyone from 13 - 18 years old can write an original book review and get an hour of volunteer credit! Check out some past book reviews for examples. Those who are interested can apply here.
---
Videos are available for viewing anytime on the PPLDTV YouTube channel.

Baby Time
Children's Staff from around the district invite babies from 0 - 12 months, with a favorite adult, to enjoy music, rhymes, and a book together!

Children's Performers
Missing the live programs at your Library? Many of our performers can now be viewed anytime on PPLDTV!

Homeschool Programs
Whether you've been homeschooling for years or are just getting started with eLearning, our homeschool programs are here to help!

KidsMake
Children's staff from around the district lead an art or make project for kids ages 5 - 12.

STEM
Children's staff from around the district lead a STEM (Science, Technology, Engineering, and Mathematics) based project for kids ages 5 - 12.

Storytime
Children's Staff from around the district invite you to join in a sing-along and then read a children's book.

Toddler Time
Children's Staff from around the district invite 1 and 2-year-old children, with a favorite adult, to enjoy rhymes, music and movement, and a few short books!

Tween Twist
Watch a virtual program and then visit your favorite library that Friday to get materials for the program for ages 9 - 12.
Drive-in Storytime
Storytellers will be on a stage, and you will stay in your car and tune your FM radio to our channel to be able to hear the stories and songs. Registration is required. Only one registration per vehicle.
LENA Start
A 10-week program where parents learn how to increase conversational turns with their babies and toddlers.
Prenatal Series
Are you expecting and have so many questions? Join Pikes Peak Library District and Nurse Family Partnership for a series of prenatal classes.
Storytime @ Home
Missing Storytime at your favorite Library? Our Family and Children's Services librarians are creating Storytime at Home materials for you and you family to enjoy. Every themed Storytime includes top literary picks with easy links to our online Catalog, music, crafting, and literacy tips.
Stroll-a-Story
Walk together and enjoy the benefits of a wonderful children's book and some physical activity.
Reassuring Reads for Kids
This always-available list presents reading options (available in electronic formats) that can provide comfort during tough times for kids and parents. The recommended books cover themes of encouragement, hope, and love while offering tools for emotional awareness and ways to deal with anxiety.
Kid-Friendly Music Playlist
Our staff selected and compiled more than four hours of children's music on Freegal, PPLD's streaming service for songs, albums, and more. (Pro tip: Browse other playlists, or create your own!)
---
Don't see anything that interests you right now? Bookmark this page for frequent updates, or visit our calendar of virtual events for new additions each week.
Stay tuned for more updates from PPLD! Our team continues to explore and expand virtual opportunities that we can bring to you, wherever you may be. Right now, we're creating new virtual experiences that will launch in the coming days and weeks.