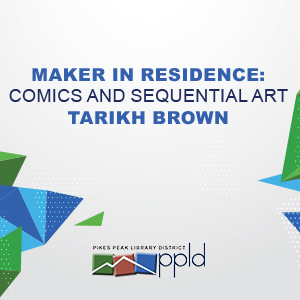 Welcome our Maker in Residence for winter 2019, Tarikh Brown!
Maker in Residence: Comics and Sequential Art
This course is designed to provide a basic introduction to sequential art. Participants will learn how to create a comic page and will be able to tell a story through images. This course will cover critical lessons for comic creators, and is useful for all skill levels.
Please help ensure that other patrons have the opportunity to participate in this program by only registering for one session. Ages 16+
Artist Biography: Tarikh Brown is a local artist with a BA in Graphic Design. He is currently seeking an MA in Computer Science: Digital Media Technology, which will be used for developing video games and virtual reality. Tarikh is especially passionate about sequential art, such as comics and story boarding, and loves to share his craft with others!
Please also visit with Tarikh and see him work on a digital comic project! Tarikh will be available at Library 21c in the Atrium for Meet the Maker in Residence:
Mon., Nov. 11, 3:30 - 6:30 p.m.
Wed., Nov. 13, 3:30 - 6:30 p.m.
Sat., Nov. 16, 1:30 - 4:30 p.m.
Sun., Nov. 17, 1:30 - 4:30 p.m.
Sun., Dec. 1, 1;30 - 4:30 p.m.