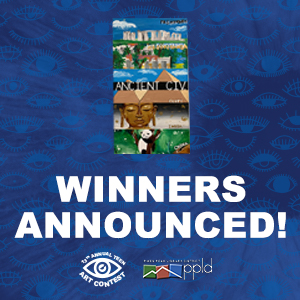 Vision 20/20!
PPLD challenged teens expressed their vision for the future and considered the past through art. Prizes were awarded to top finishers in Middle School and High School categories.
---
Submissions are closed.
Check back in December 2020 for information on how to enter the 2021 contest
.
---
Due the the pandemic, we were unable to present winners and artwork in our Libraries. This year, we will feature all six winners on our social media and on the home page of our website. We will feature a winner every day from Tue., June 9 through Sun., June 14.
We announced the winners via email. There's a lot of information packed in the message, so please make sure to read it thoroughly!
If you are unable have any issues with pick-up, please reply to the email and we will make different arrangements.
Again, congratulations to all of you! Thank you so much for your patience while we figured all of this out!
---
The winners of the Vision 2020 art contest are:
Middle School Second Place:
If Families Were United by Lexi H.
High School Second Place:
Social Commentary by Bo A.

Middle School First Place:
Colorful Year Ahead by Emma P.
High School First Place:
Emotions Never Die by Amelia U.

---
If you have additional questions or need help, please contact Joanna Rendon, jrendon@ppld.org.
---