PPLD Foundation
The dedication of Pikes Peak Library District staff went above and beyond the call of duty during the Tri-Building Capital Campaign. Having challenged themselves to raise $50,000 for the campaign, the staff committee held various events for PPLD employees. The events included a Sushi and Sake tasting, a Downton Abbey Tea and Tour held at Grace and St. Stephen's Episcopal Church, and a Tuesday Night Karma Hour held at Bristol Brewing Co., along with other events.
Many staff members also choose to donate back to the Pikes Peak Library District Foundation through payroll deductions. This type of dedication and support from the staff at PPLD went a long way in making the Tri-Building Capital Campaign a success.

Staff Committee Members:
Greg Roes
Margaret Morris
Karin Huxman
Tina Marie Matiatos
Missy Hernandez
Amy Rodda
Sandy Hancock
Deborah Worthey
Cheryl Martin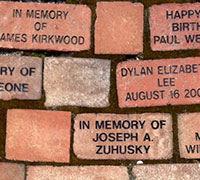 Purchasing a Library 21c courtyard paver is a great way to honor family and friends, commemorate memories and events, or to publicize your organization or business. Your purchase of a courtyard paver also contributes to PPLD's Tri-Building project, providing 21st Century Library service through innovative library spaces and technology for everyone in our community.
Commemorative pavers are now available at East Library!